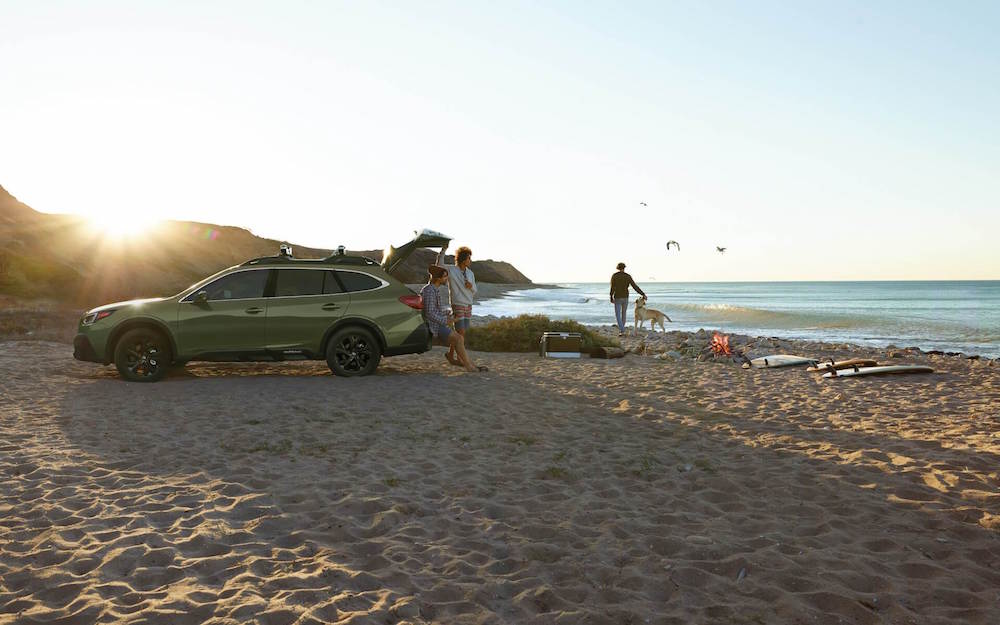 At Brooklyn Park Subaru, we understand your four-legged friends are part of the family. With its commitment to a pet-friendly design, extra space for crate and supplies, and available cargo and seat covers, Subaru offers ideal options for those looking to take their dogs along for the ride. 
While all Subaru models bring something that your dog will enjoy, we've compiled a list of three of our favorites that make transporting your pup to and from the dog park or any destination a breeze. Take a second to browse our top picks below. 
Subaru Outback
The Subaru Outback is a pet lover's dream, with its low ride making for easy access when dogs are hopping in and out. Like all Subaru models, the Outback comes equipped with all-wheel drive, making off-road exploration that much more accessible. 
This midsize crossover is also stacked with innovative safety features, specifically the automatic braking system that can stop your Subaru if it senses something crosses behind you while in reverse. Ample cargo space makes the Outback a great option for explorations beyond Minneapolis, and we guarantee your pup will have a great view from the large rear windows. 
Subaru Ascent
The largest Subaru in the lineup, the Ascent, is also a great option for taking your dog on the road. This SUV boasts three rows of seating and makes enough room for all members of the family, seating up to eight passengers. Equipped with automatic braking and innovative safety aspects as well, the Ascent is ideal for those with more cargo, passengers, or canines in tow. 
Subaru Crosstrek 
For those ready to take their dog on adventures off the road, the Subaru Crosstrek is the vehicle to get you there. Like both the Outback and the Ascent, the Crosstrek has 8.7 inches of ground clearance, making it easily accessed by larger dogs and smaller pups can hop in via a ramp, stairs, or manual lifting.
Experience the great outdoors in your Subaru Crosstrek, which features fold-down seating to make that much room for your pet to enjoy the journey alongside you. As with our other favorites, this compact crossover comes locked and loaded with the latest safety features to keep you and all your furry friends safe and sound.
Check Out These 'Dog Tested, Dog Approved' Models at Our Subaru Dealer Near Minneapolis
Subaru is committed to providing safe, easy, and fun ways to bring your pup along on all of your adventures. Committed to animal-friendly charities via their Subaru Loves Pets Campaign and even using a family of dogs, "The Barkleys," in their marketing campaigns, you can feel confident that Subaru provides the ideal option for all of you and your pets' needs. 
To learn more about all that Subaru has to offer for your four-legged friends, contact us at Brooklyn Park Subaru near Minneapolis today!