Ever look down at your Subaru dashboard and see a warning light that looks like a red car with a lock illuminated? It looks like this: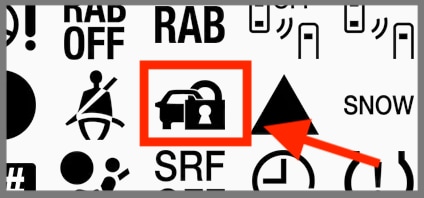 That's the Security Indicator Light, and it's blinking, it's telling you that the car's security sytem is armed. When the car is locked and off, the Security Indicator Light will blink steadily. It will trigger shortly after the engine has been turned off and the key has been removed from the ignition. For Subaru models with keyless access and a push-button start system, it will do so after the ignition switch returns to "OFF."
Actually, if the car is off and locked and it isn't blinking, that could mean a malfunction, or that your car's battery is dead. If it's malfunctioning, schedule service with our Subaru service center in Brooklyn Park immediately. 
If the light comes on and stays illuminated, that means the immobilization system, part of the car's security suite, is engaged and the car will not be able to be started or moved. That can be the result of tampering, or the presence of an unauthorized duplicate key being inserted into the transmission. If it's illuminated and you are using the correct key and operating it normally, that would also be the result of a malfunction that requires your attention.
To learn more about what your Subaru might be trying to tell you, check out our full online guide of Subaru Warning Lights. And if you're encountering frequent issues that aren't explained there, schedule service at Morrie's Brooklyn Park Subaru today.