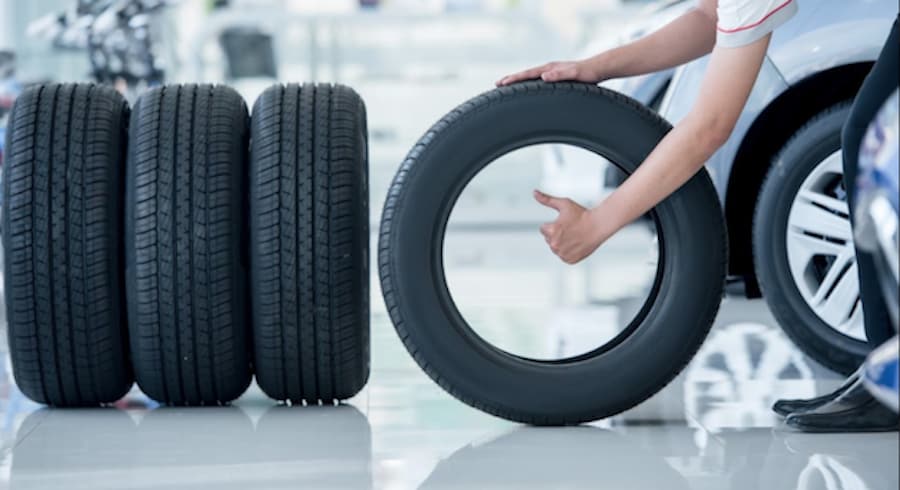 Shop For Tires
Is your Subaru in need of a new set of tires? Or do you have a flat that needs to be repaired? If so, please visit our Morrie's Brooklyn Park Subaru service center today or shop for new car tires online.
Your vehicle's tires are vital to your Subaru's overall performance and safety, and for this reason, it's imperative that you pay close attention to their condition and have them repaired or replaced when needed. Whether it's in the form of a patched-up flat tire, a routine tire rotation, or an entirely new set of tires, our Subaru service center offers a staff of highly-trained technicians that will ensure that your beloved vehicle is safe, and in proper working condition before you drive it home. 
When to Replace Your Subaru Tires?
First things first, you will want to check that your tires are properly inflated to match their recommended PSI. If your reading is showing a lack of air pressure, it could be as simple as reinflating them -- or it could mean that there is a slow leak that doesn't allow them to maintain the appropriate pressure. Unfortunately, even if you've kept your tires at their correct PSI, they are subject to natural wear and tear during every commute and will eventually need to be replaced. To prevent a dangerous loss of traction or a complete blowout, it's vital that you pay close attention to the condition of the treads. 
Some signs of wear and tear include:
Excessive wear in the center tread could indicate over-inflation of the tire. 
Excessive wear on one side of the tire indicates incorrect camber angle. 
Excessive wear on the shoulders of your tires may be a warning that your tires are under-inflated. 
Uneven tread wear levels indicate a poor wheel alignment.
Too much vibration during your drive
Lack of tread depth 
Cracks in the sidewall
Bulges and blisters
Why Visit Our Subaru Service Center
Whenever you feel that it's time for a new set of tires for your Subaru, or your tires need to be repaired, there's truly no better place to schedule Subaru service than here at Morrie's Brooklyn Park Subaru. Our convenient location near Minneapolis offers a state of the art service facility, a team of well-trained Subaru technicians, and convenient operating hours that make our service center an ideal one-stop-shop for all your vehicle's service needs. You can also shop for new car tires online, visit the Brooklyn Park Subaru tire store from the comfort of your home.

Schedule Subaru Service in Brooklyn Park
We know that keeping up with your vehicle's tire needs can become costly at times, but we offer a variety of generous service and parts specials that will help you offset the cost of necessary service or a new set of tires. Simply put, if your Subaru is in need of any type of service, please feel free to schedule a service appointment whenever it's most convenient for you, contact us online, or pay us a visit here at Morrie's Brooklyn Park Subaru.
Schedule Service