The 2022 Subaru Love Promise Community Commitment Award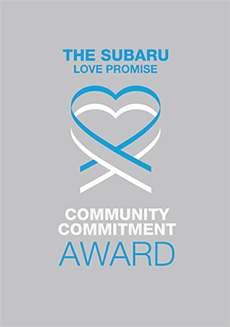 We've been nationally recognized for our dedication to our community and the Subaru Love Promise.
We're honored to receive the 2022 Subaru Love Promise Community Commitment Award. This award nationally recognizes Subaru retailers who are making the world a better place while demonstrating an outstanding commitment to supporting passions and causes in local communities. These efforts are focused in important areas such as the environment, community, health, education, and pets.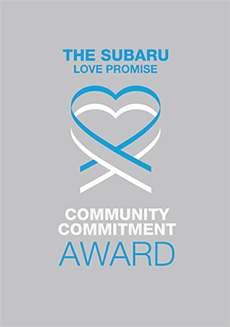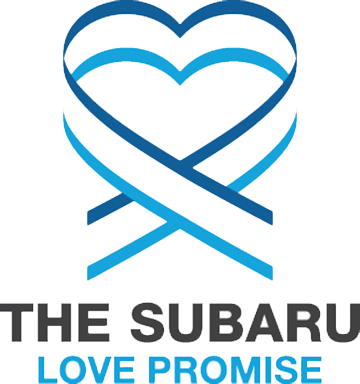 What is the Subaru Love Promise?
Subaru and our retailers believe in making the world a better place and the Subaru Love Promise is our vision of respecting all people. This is our commitment to show love and respect to our customers and to work to make a positive impact in the world.
How is Morrie's Brooklyn Park Subaru dedicated locally to the Love Promise?
Our Love Promise can be seen in various partnerships with local charities and non-profits. We're grateful for the opportunity, not only to be a part of our community, but to serve it as well. We do this because it's the right thing to do.
Love Promise Stories from Morrie's Brooklyn Park Subaru
Subaru and Morrie's Brooklyn Park Subaru believe in making a positive impact on the communities in which we live and work. We uphold that belief through our Love Promise Community Commitment. Every month, we select inspiring stories from customers and partners from around our area who strive to support our collective commitment and feature them here
Support for North View Readers - Anna T
We have a community of voracious readers at North View Middle School and I am grateful for Morrie's Brooklyn Park Subaru for their contribution to our Media Center. Our student population is very diverse and it is extremely important for all students to see themselves represented in the books they read. This donation will help us continue to provide all of our readers with a large variety of fun, new books. Thank you so much!
---
Thanks for the warmth! - Hannah J
Morrie's Brooklyn Park Subaru isn't just supporting Simpson Housing Services with Share the Love this year – they also packed and donated blankets and other essential supplies to help shelter guests and housing program participants stay warm. You can check out this video on our Facebook page: https://fb.watch/9GdBGOrpK8/ We're happy to see Morrie's commitment to the community we love. Simpson Housing Services' mission is to house, support, and advocate for people experiencing homelessness. You can learn more at our website: simpsonhousing.org.
---
Love keeps us going - Hannah J
Every winter, Simpson Housing Services and its partners hold a vigil and service for people who lost their lives while homeless that year. This year's annual Minnesota Homeless Memorial will take place on December 16. We light candles – one for every name on our list of lost loved ones. The candles are always new, never re-used. It was important to us early on that everyone being honored have their very own. Even when times are hard – even when we lose friends, sisters, fathers, cousins – what keeps us going is the love we share with our community and the hope that things can be better in the future. Support like Morrie's Brooklyn Park Subaru's Share the Love event helps us make good on our mission to house, support, and advocate for people experiencing homelessness. Learn more about Simpson and this year's vigil here: https://www.simpsonhousing.org/memorial-march/
---
Simpson Housing Services shares the love - Hannah J
Simpson Housing Services' mission is to house, support, and advocate for people experiencing homelessness. Since our beginnings in 1982 in the basement of Simpson United Methodist Church, Simpson has become a leading nonprofit providing assistance to people experiencing homelessness. Our services have grown to include five key programs: emergency shelter, supportive housing programs for youth, single adults, and families – along with developmental and educational services for children of families in our Family and Youth Programs. We were one of the first Minnesota organizations to use the nationally-recognized Housing First model. Today, we serve about 2,000 people a year and operate a 24-7 shelter. With COVID-19 still out there and winter coming, it's never been more important for our neighbors to be able to safely shelter in place. We ask you to join us in making that possible. We're already so grateful to have the help of Morrie's Brooklyn Park Subaru, which is supporting us with its Share the Love event. If you want to get to know us a little better, we recommend watching this video featuring one of our past participants, Buffy. She talks about how having safe, stable housing allowed her to focus more on her family and her goals, and all that she's been able to accomplish since. You can also learn more on our website: simpsonhousing.org Thank you!
---
Ranger Tennis Happily "Benched" by Morrie's - Amber S
The Forest Lake High School girls and boys tennis programs are extremely grateful to Morrie's Brooklyn Park Subaru for sponsoring the 2nd annual Rally for the Rangers community tennis tournament. Our goals for the day are to bring together the tennis community in Forest Lake, have fun playing tennis together, and raise money to support the boys and girls teams. Currently, we are one of the few schools in our conference without benches for players to use during matches. If players want to sit down to catch their breath on changeovers, they have to sit on the ground. That is also the case for community members who use the school courts. We dedicated our fundraising at this tournament to adding benches as a way for Ranger players and the community that supports us. Because of Morrie's very generous support, this year's tournament proceeds will allow us to "bench" each of the courts so all tennis players--community and Rangers--no longer have to sit on the ground during matches. Morrie's Brooklyn Park Subaru's very large and visible donation brought a lot of excitement to our event. As players arrived to check in for their tournament matches, they saw the beautiful new Ascent and Morrie's banner at the center of the courts. We had fun sunglasses to hand out as part of Morrie's gift. Kids and adults were excited and often asked for a pair for a friend or grandchild who was coming to watch. We shared with everyone how thrilled we were to have Morrie's Brooklyn Park Subaru's sponsorship for the tournament. There were 34 doubles teams competing in two brackets and over fifty spectators who came to cheer on their friends and family as they played. Your dealership's generosity will live on at the courts as we will be engraving Morrie's Brooklyn Park Subaru on two of the new benches. We are all grateful to Morrie's Brooklyn Park Subaru for "benching" Ranger tennis!
---
Morrie's Gifts Children Tablets For Mental Health - Rachel H
The Morrie's Brooklyn Park Subaru team lives by their motto "Subaru loves to help" investing in the community through volunteer time, donated items, and financial sponsorship. When staff from People Incorporated reached out, the first thing they asked was "What do you need?" Many students in the School-Linked Mental Health program were in danger of losing therapy during the summer months due to a lack of transportation and access to technology. The Morrie's team jumped into action, helping to cover the cost of extra tablets that could be given to students, providing vital access for those kids in need of summer support. "Morrie's Brooklyn Park Subaru is a business grounded in serving our community and is always looking to partner with organizations doing local work supporting our youth and families. As our community supports us, we are fortunate enough to be able to return that support. People Incorporated and its programs do so much to help move mental health out of the shadows and provide support to those in need. They are a perfect partner for us," said Jerry Heinecke, General Manager.
---
Subaru Helps Feed Communities - Briana G
Second Harvest Heartland received a generous grant from Feeding America and Subaru. The thank you video below from a long-time volunteer expresses our gratitude and explains how it will help our community.
---
Morrie's Subaru Shares the Love with Pause 4 Paws - Shelby R
From October 22 to October 29, 2020, Pause 4 Paws and Morrie's Brooklyn Park Subaru partnered to host an in-person and virtual pet adoption event. This collaboration provided the opportunity to connect with our community and adopt deserving dogs and cats into their forever homes. Through the grant funds from the ASPCA & Subaru Loves Pets Grant Program, we provided spray and neuter surgeries and vaccinations for 25 cats in need. Many of these cats were adopted during the month of October! Two of the cats were adopted together. Life did not start out easy for these two precious kitties, but with time, proper vet care, a fabulous foster family, and the love and patience of their adoptive family, Echo and Foxy have, "A New Leash on Life." None of this would have been possible without the generosity of the ASPCA & Subaru Loves Pets Grant Program. It takes a village to do this work, and we are forever grateful to have these supporters part of the Pause 4 Paws village. We are so grateful for Morrie's Subaru and their support of our nonprofit organization and the animals in need of loving homes. From all of us at Pause 4 Paws, thank you to Morrie's Brooklyn Park for your generous support!
---
Subaru story - Tony R
We bought a Subaru and we love it!
---
Morrie's Shares the Love with Hometown Charities - Paige M
Thanks to Morrie's ongoing support of CEAP through the Share the Love campaign, this year over $29,000 was raised by the community. This is more than has ever been raised for CEAP through the Share the Love campaign, and will go a long way in ensuring our neighbors have access to nutritious food and emergency services. Morrie's is an incredible steward of our community and always makes sure their customers know about CEAP! We're so grateful at CEAP to have Morrie's Subaru as a longtime partner of our organization.
---