The 2021 Subaru Love Promise Customer and Community Commitment Award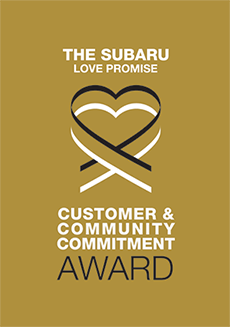 We've been nationally recognized for our dedication to our customers, our community, and the Subaru Love Promise.
We're honored to receive the 2021 Subaru Love Promise Customer and Community Commitment Award. This award nationally recognizes elite Subaru retailers who provide an exceptional customer experience at every interaction with Subaru. These retailers have also demonstrated an outstanding commitment to supporting passions and causes in their local communities in important areas such as the environment, community, health, education, and pets.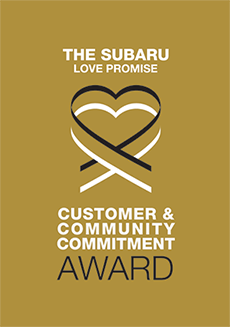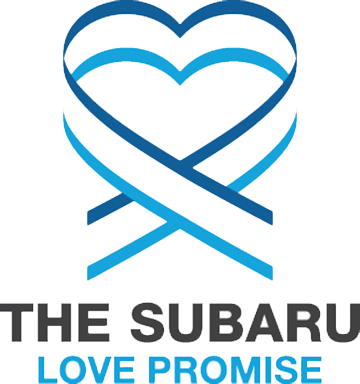 What is the Subaru Love Promise?
Subaru and our retailers believe in making the world a better place and the Subaru Love Promise is our vision of respecting all people. This is our commitment to show love and respect to our customers and to work to make a positive impact in the world.
How is Morrie's Brooklyn Park Subaru dedicated locally to the Love Promise?
Our Love Promise can be seen in various partnerships with local charities and non-profits. We're grateful for the opportunity, not only to be a part of our community, but to serve it as well. We do this because it's the right thing to do.
Love Promise Stories from Morrie's Brooklyn Park Subaru
Subaru and Morrie's Brooklyn Park Subaru believe in making a positive impact on the communities in which we live and work. We uphold that belief through our Love Promise Community Commitment. Every month, we select inspiring stories from customers and partners from around our area who strive to support our collective commitment and feature them here
Subaru Helps Feed Communities - Briana G
Second Harvest Heartland received a generous grant from Feeding America and Subaru. The thank you video below from a long-time volunteer expresses our gratitude and explains how it will help our community.
---
Morrie's Subaru Shares the Love with Pause 4 Paws - Shelby R
From October 22 to October 29, 2020, Pause 4 Paws and Morrie's Brooklyn Park Subaru partnered to host an in-person and virtual pet adoption event. This collaboration provided the opportunity to connect with our community and adopt deserving dogs and cats into their forever homes. Through the grant funds from the ASPCA & Subaru Loves Pets Grant Program, we provided spray and neuter surgeries and vaccinations for 25 cats in need. Many of these cats were adopted during the month of October! Two of the cats were adopted together. Life did not start out easy for these two precious kitties, but with time, proper vet care, a fabulous foster family, and the love and patience of their adoptive family, Echo and Foxy have, "A New Leash on Life." None of this would have been possible without the generosity of the ASPCA & Subaru Loves Pets Grant Program. It takes a village to do this work, and we are forever grateful to have these supporters part of the Pause 4 Paws village. We are so grateful for Morrie's Subaru and their support of our nonprofit organization and the animals in need of loving homes. From all of us at Pause 4 Paws, thank you to Morrie's Brooklyn Park for your generous support!
---
Subaru story - Tony R
We bought a Subaru and we love it!
---
Morrie's Shares the Love with Hometown Charities - Paige M
Thanks to Morrie's ongoing support of CEAP through the Share the Love campaign, this year over $29,000 was raised by the community. This is more than has ever been raised for CEAP through the Share the Love campaign, and will go a long way in ensuring our neighbors have access to nutritious food and emergency services. Morrie's is an incredible steward of our community and always makes sure their customers know about CEAP! We're so grateful at CEAP to have Morrie's Subaru as a longtime partner of our organization.
---
Sharing the Love with Cancer Patients - Shannon B
The team at Morrie's Brooklyn Park Subaru generously chose The Leukemia & Lymphoma Society, MN/ND/SD Chapter as a Share the Love hometown charity this past winter. Throughout November and December, YOU - their amazing customers - were able to choose a charity to receive $250 of your purchase. This resulted in a donation of over $28,000 to our local chapter to assist blood cancer patients and their families.The timing of this donation couldn't come at a more needed moment for LLS, as nonprofits navigate troubling waters amidst a global pandemic. Our cancer patients need us now more than ever, as they navigate everything from financial struggles, how to receive cancer treatment during a shutdown, and extreme anxiety as compromised individuals themselves. LLS can be here for THEM because YOU are here for us. Thank you from the bottom of our hearts, Morrie's Brooklyn Park Subaru!
---
Subaru Delivers New Recipes to Seniors - Paige M
Thanks to Subaru's selection of CEAP as a recipient of a Subaru Outback in 2017, we've been able to accept volunteers who may not have reliable car transportation. As a non-profit food shelf, we believe that everyone should have the opportunity to give back in their community while also receiving help; it shouldn't have to be a choice between the two. With Subaru's help, we've been able to remove another barrier to allow even more people to volunteer. This month our Meals on Wheels program is debuting several new recipes for our senior participants, some of which will be delivered in the Subaru by staff and volunteers. Our new recipes include: turkey with stuffing and cranberry sauce, BBQ pork loin with biscuit and honey and vegetables, Moussaka with vegetables, Beef tips in gravy over egg noodles, and a hot turkey sandwich. These recipes celebrate the diversity of our community and share nutritious food with those who may not otherwise have access-- and I think we can all agree that's something to love!
---
Heartwarming Donation to U of M Cancer Clinic - Shannon B
On June 24, Morrie's Brooklyn Park Subaru and The Leukemia & Lymphoma Society (LLS) spread love, hope and warmth to blood cancer patients in treatment at The University of Minnesota Masonic Cancer Clinic. Subaru customers wrote cards of hope which were gifted to patients with blankets and craft kits to provide comfort during their cancer journey. LLS volunteer Jillian Cicero accepted a blanket on behalf of the University of Minnesota and in memory of her mom. Jillian's mother was diagnosed with AML in August of 2008. After a long, hard road she passed away from bone marrow transplant complications in 2012. Dr. Erica Warlick took great care of Jillian's mom and got to know Jillian very well throughout the journey and have stayed in touch ever since. The two were reunited at the blanket donation event alongside Morrie's Brooklyn Park. They even got to hand out blankets together at the clinic. Jillian just graduated from high school so the Morrie's BP Subaru team surprised her with generous presents for heading off on her next adventure: college life. She said, "What a great day! I was so happy to hand out blankets with Dr. Warlick and spend more time with her. Thank you to Morrie's Brooklyn Park for the generous donation. This makes me even more proud to drive MY Subaru!"
---
Subaru Shares the Love - Holli R
As a hometown charity, we can't thank Morrie's Brooklyn Park Subaru enough for their generous support of CEAP. Their donation of over $16,000 means more meals on the table for neighbors in our community. But they didn't stop there! They've also been stuffing a vehicle full of food each month to bring to food shelf - over 500 pounds of food to feed our neighbors!
---
Morrie's Subaru Fills the Food Shelf - Rachel H
Morrie's Brooklyn Park Subaru hosted a food drive for the holidays for families in need of extra support. They filled their Subaru to the brim! All total, they donated 400 pounds of food - enough to fill over 300 dinner plates!
---
The neighbors are what keep me coming back - Kalleah K
Meet Kathy Moon! Kathy is a retired dental receptionist with a heart of gold who uses her free time to deliver Meals on Wheels year round. She received a mailing from CEAP just over a year and a half ago and thought "Delivering meals would be a lot of fun." Kathy has a degree in studio art and does calligraphy for weddings on the side. She has always been a social person and loves that delivering meals helps her get out and stay connected to people in her community. "The neighbors and drivers are what drive me to keep coming back. I've learned so much for them." Kathy shared that every person that she delivers to has been so kind, grateful and super nice to her. "It's become such an important part of my routine. I really look forward to my routes each week." When asked what she would say to someone who was on the fence about volunteering she responded, "I believe that every person should do a little volunteer work in their lives. It's good for everyone." Kathy is a Minnesota native that demonstrates with every route that Meals on Wheels deliver more than hot food, they deliver smiles, friendships and connections to your neighbors.
---
the rewards outweigh the effort - kalleah K
Meet Tom and Carla! This lovely duo got involved with CEAP through Saint Alphonsus Church in 1991 and have been volunteering on and off as Meals on Wheels drivers ever since. They've met some incredible people, volunteers, and participants, during their time at CEAP. "Some of the best people I've met have been through volunteering at CEAP."Before retirement, Tom worked in the food industry and Carla was an underwriter for St. Paul Traveler's for over 25 years. Since their retirement, the couple has intensified their "giving back" approach to life by volunteering at the Guthrie, the Arboretum and delivering Meals on Wheels once a week. Both Tom and Carla remarked on how surprising the need was for assistance and warm meals in the community. "There are so many people who need help in our community. Without doing Meals on Wheels, you would never know." Carla is thankful for the opportunity to help her neighbors and the connection that volunteering offers. Her words of wisdom for someone who was on the fence about volunteering, "The rewards outweigh the effort."
---
#SubaruLovesToCare w/ LLS + Masonic Cancer Clinic - Celeste L
On Tuesday, June 26, 2018, as part of the national Subaru Loves to Care program, Morrie's BrooklynPark Subaru worked with The Leukemia & Lymphoma Society to deliver 80 blankets, along with arts and crafts kits and cards of hope to patients at University ofMinnesota Masonic Cancer Clinic. Tina Ingalls and Joe Seppa came on behalf of Subaru. Both are active volunteers in their community and have worked with LLS before.Their enthusiasm for the projectwas evident as they happily carried blankets into the hospital and connected with patients. One such patient was Bill Bannon, who was kind enough to share his story with volunteers. He was diagnosed with acute myeloid leukemia in April 2017 and had a mutation that made his case very serious and difficult to treat. The only possibility for any chance at survival would be to undergo anumbilical stem cell transplant from a donor. Unfortunately,within six weeks the leukemia had returned. This made Bill's chances for survival non-existent. As a last-ditch effort to prolong his life, Bill was accepted into a clinical trial of a newdrug which specifically targets the FLT-3 mutation.The drug successfully inhibited the leukemia and he was released to go home in December, 2017. Upon his return checkup in January, 2018, doctors discovered that the donor cells had survived there lapsed leukemia and had now fully engrafted in Bill's bone marrow.His blood levels were all normal and there was no sign of leukemia in his blood or marrow. Bill was declared in complete remission with a greatly improved prognosis. Bill graciously accepted the blankets and expressed how appreciative he was for the work that Subaru and The Leukemia & Lymphoma Society are doing. He still can't believe how lucky he was to have received such great careat the Masonic Cancer Clinic and from the doctors and nurses."I wake up every morning extremely grateful," Bill told staff.
---
Above and Beyond - Kimberly D
On April 25 I got the worst news, my beloved Subaru with 186,000 needed a very expensive repair and was not worth saving. I needed my car that weekend as I had several loads of "horse tack" to transport. I was desperate. I called a nearby dealer only to be met with the worst conversation ever. in 2012, I had a good experience with Morrie's and called there. I got the Internet person who was very friendly - but this is really a story about Tina Ingalls. I had a good experience with Tina when she was the finance mgr in 2012. She called because she was following up on the internet lead from the day before. I was quite discouraged. She said "How can we help?" I explained how discouraged I was and I just wanted a car. She said "Just tell me what you want - I'm here to help." I said "I don't want to talk to a salesperson, I don't need to watch a video, I don't want to test drive. I want to come in and pick up a car." "OK she said - what color, what features, etc." I quickly outlined what I wanted, what I wanted to spend. Tina said "I'll call you right back," Within 30 minutes, she called back, said "You are all approved. I found your 2nd color choice. It will be here at 4 - when do you want to come in? I said "Actually 4:30 if it will be ready and I can get a ride" Tina said "I'll have someone come and get you and I'll have the paperwork all ready. She sent a lovely salesperson named Danielle to pick me up. We had the best talk and I didn't feel like I was being "sold". When we got to Morrie's, Tina met us and said "Guess what, I found your first color choice, you just choose which you want and we will make it happen. Within 2 hours, I completed paperwork - Dominic was great! - and I was driving home. I cannot emphasize how much I needed someone to make this simple for me. I drive about 25,000 miles a year - I'm just busy. Being without my car almost cripples me. To have Tina "fix" this problem, took a huge weight off my shoulders. She actually listened to what I needed and met those needs - no - exceeded those needs. I cannot thank her enough and she has a customer for life! Many thanks to Tina Ingalls and her team.
---
The secret to 62 years of marriage - Kalleah K
This winter, CEAP staff and volunteers had the opportunity to deliver meals through the ice and snow to Tim and Brenda. This is a very special couple who have been married and living in the same house together for 62 years.Through joy, sorrow and all the things that life can throw at you, Tim shared that the connections he has with Meals on Wheels volunteers are what keeps him grounded and at home with his wife in his advanced age. Brenda has recently been diagnosed with vascular dementia and has difficulty moving around, cooking and keeping a schedule. He admits that he never really had great cooking or grocery planning skills and heavily relies on the hot meals delivered to his door everyday. Tim and Brenda are incredibly grateful for the meals and connections that Meals on Wheels has brought to their lives. The Subaru Outback is another vehicle, that handles wonderfully in bad Minnesota weather, that delivers meals and friendships to our most deserving neighbors.
---
Morrie's BP Subaru Supports All It's Neighbors - Kalleah M
Morrie's Brookyln Park Subaru has been such an incredible partner during our 50 Cars for 50 Years' experience. Even before our vehicle donation event on November 14th, 2017, Morrie's had been filling our vehicle to the brim with non-perishable groceries to help us stock our shelves. When they delivered the Subaru they even helped us unload the vehicle and teach our staff the ins and outs of the vehicle. Now, Morrie's had started a toy drive for us to ensure that every child has a present to open on Christmas morning. They hosted our Volunteer Coordinator last Saturday in their lobby to help recruit volunteers for our programming. And Finally, they connected us with Rebekkah Brunson, a player for the Minnesota Lynx basketball team, and joined her in delivering Meals on Wheels in our brand new vehicle. We are thankful for their partnership and engagement.
---
Above & Beyond For 2nd Year Partnership w/ LLS - Shannon B
Morrie's Brooklyn Park Subaru's Love Promise went above and beyond in their second year of partnership with The Leukemia & Lymphoma Society, Minnesota Chapter. When the LLS staff first met their team to kick off last year's #SubarulovesToCare initiative, there was an instant connection. Every employee seems to have philanthropy embedded in them, thanks to their leadership team. When they get behind a cause, they do it in a big way.After a very successful blanket delivery to patients receiving cancer treatment last year together, Morrie's Brooklyn Park Subaru generously chose LLS as their Share the Love Hometown Charity for the holiday season and raised over $50,000 for blood cancer research and patient assistance! We were BLOWN AWAY. And they continue to come alongside LLS and our patients by signing back up for another Subaru Loves to Care month, which concluded on July 25 with a donation of blankets, craft kits, and handwritten inspirational messages to patients battling blood cancer at The U of M Cancer Clinic. Dr. Erica Warlick proudly accepted the blankets for the hospital, as she is the reigning LLS Woman of the Year and a well-loved physician at the clinic. One of her grateful patients currently battling AML, Doug, accepted a blanket alongside her. Doug is proud to have supported Erica's winning fundraising campaign for LLS Woman of the Year: "I see a lot of people at the hospital, in the waiting room – they all think the world of her and so do I."
---
Fighters Foundation Golf Tournament Sponsor - Josh I
Tina and her team at Morrie's stepped up and sponsored the Fighters Foundation First Golf Tournament this year that was held on June 24th, 2017 at Riverwood National in Otsego. Without their support and contribution, the tournament would not have turned out as well as it did. The Fighters Foundation was created to help cancer and other hospital patients with financial support and because of Morries Brooklyn Park Subaru, we were able to raise approximately $3,000.00 to distribute to those fighting the good fight! Thanks again to Tina and her Morries team for helping with our fundraiser and we hope to see you all next year!! Josh Iskierka President/Founder Fighters Foundation
---
Thank you for sponsoring our Walk For Talk 5K! - Laura I
Haley is an 18 month old girl who was diagnosed with a bilateral, profound sensorineural hearing loss at birth. She received bilateral cochlear implants in December of 2016 and they were activated (turned on) on January 18, 2017 at 14 months of age. Before this day, Haley was never able to hear people talking to her. She did not understand or use any spoken words. Haley and her parents began attending the Northern Voices parent infant program on February 2, 2017 and she entered the toddler program 5 days a week on March 21, 2017. In just 4 short months, Haley has begun to understand several words and follow simple one step directions. She is also able to say a few common words (i.e., up, fall down, open etc.) and is beginning to approximate several words through imitation. She receives 1 hour of individual listening and spoken language therapy each day and truly enjoys every minute of it. Haley doesn't even know she is working so hard because she is having so much fun doing so! It is our goal at Northern Voices to enable Haley to communicate through the use of listening and spoken language, and help prepare her to reach her full potential. We believe that Haley is fully equipped with the resources to one day be successfully mainstreamed and have language skills that are at or above her hearing peers. We believe that one day she will thank you in her own words for this incredible gift.
---
4th Annual Bash4Guild - Ajia H
The Bash4Guild raises money for Guild Incorporated's Equilibrium (EQ) Youth Services –raising awareness and smashing stigma. EQ serves youth 16-20 with severe and persistent mental illness. Emceed by KFAN's Meatsauce, the party thrilled attendees with games, live music by local musician Sarah Christine as well as the band, Stache, a silent auction, and new features including a caricature artist and magician. Over 500 people attended this year – up 100 from last year, and over $60,000 was raised for EQ. "The event is the perfect indicator of what a large group of people can do when they get together to support a cause," says event co-founder, Matt Bollero. "Every year we do this, it's a chance for everyone there to help fight the stigma that surrounds mental illness. Awareness continues to grow, and this event is just another opportunity to continue to break down the barrier." The event's success is due, in large part, to generous sponsors like Morrie's Brooklyn Park Subaru. We are so appreciative of your support and the great work you do in our community!
---
New Leash on Life for Nippers - jill g
Pause 4 Paws (P4P) supports 18 animal rescues and sanctuaries across Minnesota and to Puro Gato Rescue in Puerto Vallarta, Mexico. P4P distributes funds to cover the cost of vaccinations, spay/neutering, emergency medical care and delivers donated dog and cat food directly to the rescues. P4P and their Beneficiary Organizations have saved over 25,000 dogs and cats and spayed or neutered nearly 17,000 animals. 100% of the funds distributed through P4P goes directly to the support and care of the animals. The donation from Morrie's Brooklyn Park Subaru allowed P4P to give one of our beneficiaries the funds to save Nippers, who had been abused and neglected in his previous home. Once we learned that P4P would cover his medical fees we took him in immediately. After a few days of settling into his new environment we removed Nippers leash outside in the yard and watched him shake and roll in the grass. I laid down on the grass with him and he rolled over for a belly rub, he relaxed and closed his eyes. When we were done relaxing I tickled his sides...his tail began to thump and he began to posture to play. I leaned down and whispered to him..."The best is yet to come boy, you are and will be loved." We walked back inside by one another without a collar and without a leash. I believe he knows he is safe and that he will never be harmed again. P4P is forever grateful to Morrie's Brooklyn Park Subaru for saving Nippers life.
---
20th Annual BurnAid Golf Classic - Kelly J
On September 12, 2016, 100 golfers came together at Dellwood Country Club to participate in the 20th Annual BurnAid Golf Classic. Each year, nearly 2,000 individuals seek help through the Burn Center at Regions Hospital due to injuries from fires, frostbite, chemical burns and other related problems. Tournament proceeds allow the Burn Center at Regions to offer unique and far-reaching programs that support burn victims and their families as they recover and adjust to their new lives. BurnAid would not be successful without the support of our sponsors like Morrie's Brooklyn Park Subaru. The folks at Morrie's even went above and beyond their sponsorship and provided a car for us to use at our "Hole-in-One" hole. A huge thank you to Morrie's Brooklyn Park Subaru for being a Gold Sponsor of the 20th Annual BurnAid Golf Classic!
---
Morrie's delivers blankets to University of MN - Shannon B
On June 29, LLS Ambassador Terri Oakes – wife of former University of Minnesota Gopher Baseball pitching coach Todd Oakes – and Erica Warlick, MD, Coach Oakes' oncologist, accepted 120 blankets from Morrie's Brooklyn Park Subaru on behalf of blood cancer patients currently being treated at the University of Minnesota Masonic Cancer Clinic. Coach Oakes lost his battle with acute myeloid leukemia on May 26, 2016, a tragic loss for the team, university and cancer advocacy community. The five-year survival rate for AML is 25 percent. To commemorate Coach Oakes' legacy, UMN Gopher baseball Coach John Anderson and team members Ty McDevitt and Dan Motl hand delivered the blankets to Warlick and Terri Oakes. Morrie's Brooklyn Park representatives Joe Seppa, Tina Ingalls, and Tom Frisch generously drove their donation to the cancer center and delivered care cards, which were written by customers to encourage patients. Oakes was a local LLS Board of Trustees member, fund-raised more than $175,000 for the mission, and very recently was announced as a national award-winning volunteer. Todd was loved by many and known for his 'never-give-up' attitude— many tears were shed during the blanket delivery by his family, friends, and doctor. But they all agreed this generous act from Morrie's Brooklyn Park Subaru would have made Todd so happy. Giving back and taking care of others was what he was all about.
---
A Winning Team - Aimee L
While it may have been a blustery, unseasonably cool Minnesota spring day on May 14, 2016, it was a GREAT day for the Special Olympics Minnesota Area 7 Track & Field meet...thanks to Morrie's Brooklyn Park Subaru who stepped up to sponsor this event! Over 400+ Special Olympics athletes, unified partners, and coaches gathered at the St. Michael-Albertville track and competed in a wide variety of events over the course of the day. As our athletes entered the complex, they were greeted by the enthusiastic and welcoming Morrie's staff who volunteered their day to be there in support of our athletes, handing out reusable tote bags, water bottles, sunglasses, and a crowd favorite - bubble wands! Also available for our athletes, compliments of Morrie's, was a healthy snack option. The day was a HUGE success and we can't thank Morrie's Brooklyn Park Subaru enough for their support - it truly meant so much to our athletes, coaches, families, and volunteers. Thanks so much for sponsoring this event and being a part of our winning team!
---
Barts - Janet O
Basic Animal Rescue Training (BART) was established in 2004 by veterinarian Dr. Janet Olson in response to the tragic loss of a pet in a house fire in her community. The burning home belonged to a firefighter, and his 13-year-old German Shorthaired Pointer named Bart was trapped inside. The department was able to put out the fire and locate Bart, but he was unresponsive. The firefighters, including Dr. Olson's husband, did not have the knowledge or equipment to help Bart; and he succumbed to smoke inhalation. The entire fire department was deeply affected by this tragedy and felt helpless to save a family member of one of their own. Dr. Olson developed the BART program in honor and memory of Bart. BART's mission is to empower firefighters and other first responders to be prepared and equipped to address pets and livestock encountered in emergencies and disasters. BART serves to honor the human-animal bond and preserve human health, safety and well-being. Since 2004, more than 5000 first responders in Minnesota, Iowa and Oklahoma have been trained by BART Certified Instructors and equipped with the necessary medical/response equipment.
---
Children's Hospitals and Clinics of Minnesota - Barbie H
About Children's At Children's Hospitals and Clinics of Minnesota, we get to see amazing every day. The fighting spirit of a 24-week-old preemie. The resilient five year old learning to walk again. And the sense of pure optimism we see in every child. We believe children are the most amazing people on earth and that drives us to do everything we can to live up to the privilege of caring for them. Children's Minnesota is: One of the largest pediatric health systems in the United States with two hospitals, 12 primary and specialty care clinics and six rehabilitation sites The only health system in Minnesota to provide care exclusively to children from before birth through young adulthood An award-winning health system, regularly ranked by U.S. News & World Report as a top children's hospital An independent and not-for-profit system (since 1924) Our Mission We champion the health needs of children and families. We are committed to improving children's health by providing the highest-quality, family-centered care, advanced through research and education. Our Vision It's our goal to be every family's essential partner in raising healthier children not only during illnesses or injuries, but throughout childhood. As the health care industry faces a time of unprecedented change, we will continue our dedication to delivering an experience unlike any other, making access to health care easier, and working with the community in innovative ways.
---