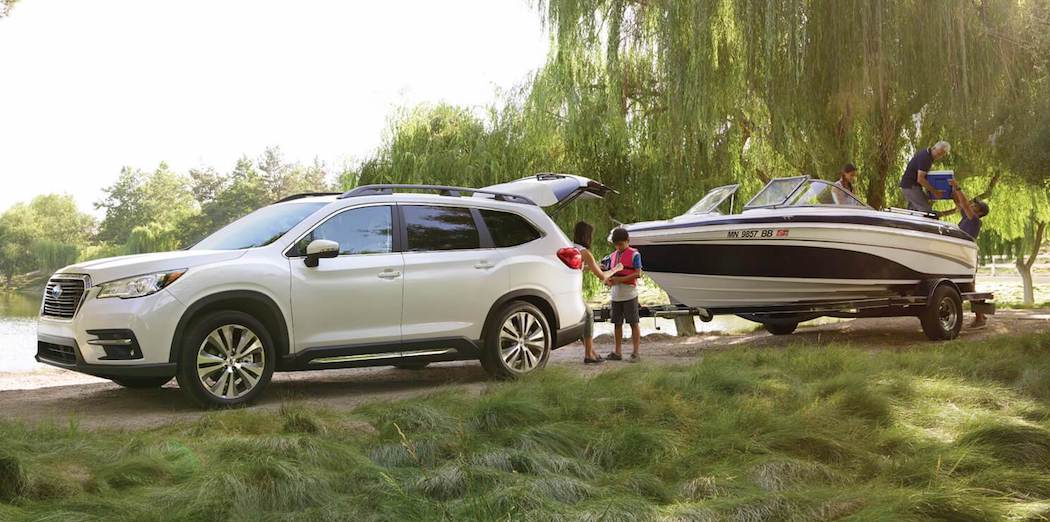 With their potent all-wheel drive systems and reliable Boxer engines, Subaru vehicles have always been rugged, capable companions for those in the Minneapolis area. While they aren't going to haul as much as a pickup truck, all of Subaru's crossovers and SUVs have the ability to tow when equipped with a towing hitch, and many offer enough towing capacity to move your snowmobile, dirt bike, or other small trailer items. Here's how much each Subaru vehicle can tow. 
How Much Can a Subaru Crosstrek Tow?
The Subaru Crosstrek is the smallest of Subaru's crossover offerings, based off the beloved Impreza sedan. But unlike its sedan counterpart, the 2019, 2020, and 2021 Subaru Crosstrek can tow: Up to 1,500lbs on the standard model, and up to 1,000lbs with the Hybrid edition.
How Much Can a Subaru Outback Tow?
The classic Subaru Outback has been a wagon classic for decades, and it can tow its fair share. The 2019, 2020, and 2021 Subaru Outback can pull up to 2,700 lbs. However, the 2020 and 2021 Outback Onyx Edition XT offers even more pull with a maximum towing capacity of 3,500lbs--the most ever for an Outback. 
How Much Can a Subaru Forester Tow?
The Subaru Forester is another of the brand's classic SUV models. The 2019, 2020, and 2021 Forester gives you up to 1,500lbs of max towing capacity.
How Much Can a Subaru Ascent Tow?
The new Subaru Ascent is the largest SUV Subaru has ever built. As expected, it has the greatest towing capacity. While the base 2019, 2020, and 2021 model offers 2,000lbs of towing, higher trim levels of the 2019, 2020, and 2021 Subaru Ascent can pull up to 5,000lbs.
Find Your Subaru Near Minneapolis
Interested in getting to know a Subaru of your own? Visit Morrie's Brooklyn Park Subaru today to test drive the reliable, rugged Subaru SUV of your dreams.